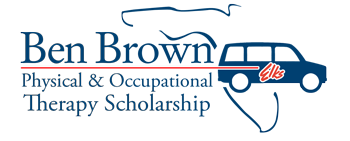 Qualifications
Scholarships will be issued based on overall GPA received by students while achieving their bachelor's degree from an accredited Florida school and financial need of the applicant (only students who have completed their undergraduate degrees are eligible for the scholarship). Total Scholarship per student would be $20,000 for two year students and $30,000 for 3 year students. $10,000 per year for students in two year Occupational Therapy program (2nd year funding granted if student has a GPA of 3.0 or more after first year). $10,000 per year for students in three year Physical Therapy program (2nd & 3rd year funding granted if student has a GPA of 3.0 or greater after first and second year). Any recipient whose GPA falls below 3.0 at any time during their eligibility period will be removed from the program, as verified by College or University transcripts.
Applications should be post-marked by January 25 and received in hard copy.
Scholarships will be awarded to applicants who have completed their Bachelor's Degree and have been admitted to a Florida College or University which offers a Master's program in Occupational Therapy or a PHD program in Physical Therapy. Each recipient will have to maintain certain achievement levels on an annual basis to continue receiving their scholarships. BBPOTS Committee will be responsible for determining the qualifications for receiving grant (GPA of 3.0 or better on a scale of 4.0, Financial need, Good morals, School/Community Involvement, etc.). They must be residents of Florida and submit proof of admission to a College or University in the state of Florida that offers a degree in physical and/or occupational therapy.
Grant/Scholarships checks will be made payable, at the ensuring fall semester, to the applicable institution for credit to the recipient once proof of enrollment is received at our State office.